quality electrical contractor services
CSLB #991534
ELECTRICAL | FIRE ALARMS | TELECOMMUNICATIONS | SOLAR
Janinne, Cupertino | Yelp Review
Esquared worked on my rental property as well as a bigger commercial job. They are very professional, fair, and quick. They do great work and I have not had one issue since working with the company. They even came short notice to fix something I needed. I highly recommend them as I continue to use them whenever I need electrical work done. There is no job too big or too small for them.
Santa Rosa Electrical Contractor Services
A highly experienced electrical contractor providing services to the Santa Rosa Northern California Bay Area. Esquared Electric INC provides professional electrical services including major residential rewiring and breaker panel replacement and large commercial projects. As a leader in the fields of home automation and lighting control systems, we offer our customers cutting-edge technology and the best programming available. Installation of even the most complicated high-end lighting and integrated network controls becomes simple when in the hands of an experienced professional.
Esquared Electric provides superior electrical repair services at an affordable rate. Our trusted technicians provide a safe platform for our valued customers. Giving our customers the best experience possible is what we strive for at Esquared Electric. Serving the entire North Bay, including Marin, Novato, Petaluma, Cotati, Sebastopol, and Santa Rosa. Services include emergency repairs, upgrades, from remodels to fully customized projects. Additional services also include high-speed advanced telecommunication networks and low-voltage systems.
We like to do all things electrical including new construction repair services, panel upgrades, parking lot lights maintenance, and more. We have many close relationships with local business owners, restaurants, wineries, and manufacturing facilities.
Esquared Electric INC is currently offering the Northern California area discounts due to the wildfire damages. Electrical repair, new construction, and installation services. Additional services include temporary power and telecommunications services.
Residential work with knowledgeable professionals to ensure your home's wiring system is properly configured.
Tenant Improvement projects and large-scale warehouse projects have always been a big part of what we do here at Esquared Electric.
When you have a vision, anything is possible.
(Also a whole lot of hard work!)
Here at Esquared Electric, we are a family and we treat our customers as such. We believe in safety as our first priority in approaching any job. With many years in the industry, we have a standard for our work that is exceptional. We work with you to meet all of your needs within your budget. All of our technicians are committed to providing the best electrical services in the area.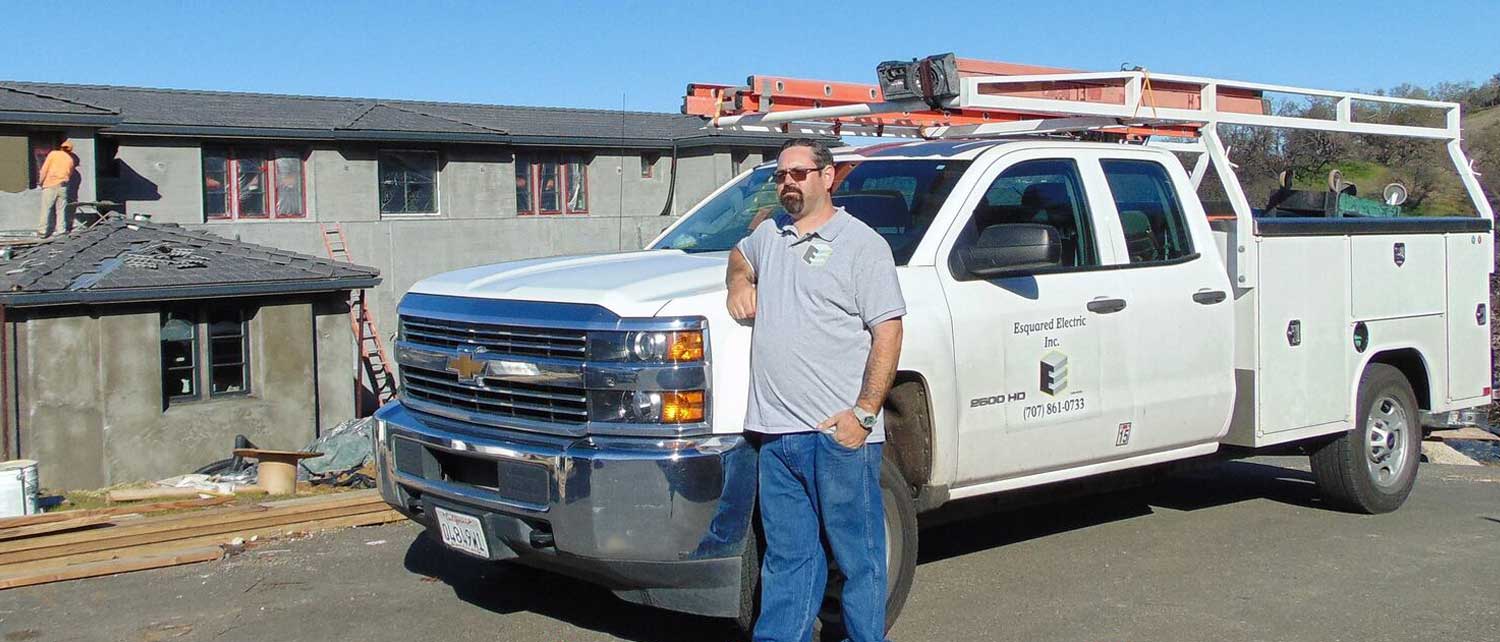 Bethany J. Flint MGR
Carol Benjamin
Dell Stortroen
Justin Roe
Oliver Hergenrather
Serafin Rosas
William Redding


Platt Electric Supply
Corday Lighting
Independent Electric Supply
Friedman's
Graybar Electric Supply
CED Greentech Santa Rosa